Webinars On Demand
How Camera Pixel Size and Modulation Transfer Function Affect Modern Microscopy and See the Invisible with Microscopes
Presenter
Gerhard Holst, Head of the Research & Science, Excelitas PCO GmbH
Microscope designs are moving toward larger field-of-view and larger image circles to capture more information with the recording of a single image. For that reason, camera manufacturers are designing and creating new scientific cameras with larger image sensors and diagonals as well. Proper selection of pixel size according to the applied microscope magnification is an even more important consideration. In this talk Gerhard Holst explains the relationship of these different factors. Holst also shares the results of experimental investigations into the question of what impact optical transfer functions or modulation transfer functions have on modern microscope methods, such as single-molecule localization microscopy and structured illumination microscopy. Finally, he addresses the question of whether microscopes can leverage short wave infrared imaging (SWIR) to get a better or deeper look into thick samples — and perceive details that are currently invisible. Holst introduces applications based on new SWIR image sensors and light microscopes. Register below to view this webinar recording to learn more.
About the Presenter: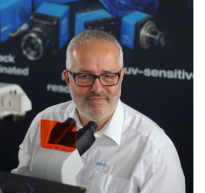 Gerhard Holst, Ph.D., is head of the Research & Science Department at Excelitas PCO GmbH. He graduated from the Technical University Aachen (RWTH), Germany, with a diploma in electrical engineering and information technology in 1991 and conducted his doctorate studies at the University of Dortmund in collaboration with the Max-Planck-Institute for Systemphysiology in Dortmund, Germany from 1991 to 1994. He furthered his research as a member of the Microsensor Research Group at the Max-Planck-Institute for Marine Microbiology in Bremen, Germany from 1994 – 2001. Holst has been Head of the Research & Science Department at PCO since 2001, where he is responsible for new technologies and all research. He also oversees sensor projects like the development of scientific CMOS (sCMOS) image sensors.
Recording was produced in partnership with Laurin Publishing Company Inc.
Recording: How Camera Pixel Size and Modulation Transfer Function Affect Modern Microscopy and See the Invisible with Microscopes