Webinars On Demand
Precision, Control and Repeatability: Harnessing the Power of UV Curing in Medical Manufacturing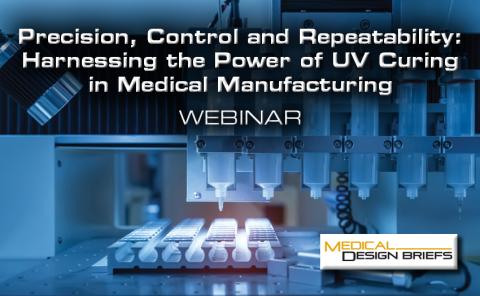 Video Duration
30 minutes
Register below to view the webinar recording.
Overview:
In the dynamic world of medical product manufacturing, ultraviolet (UV) curing technology has evolved into an indispensable tool for coatings, inks, and adhesives across a diverse range of medical products, including syringes, catheters, hearing aids and medication patches. UV curing enables the bonding, sealing, marking, and coating of a variety of substrates in compliance with stringent quality requirements. For manufacturers in the medical devices industry, precision and reliability of the process is of paramount importance.
Several factors influence UV curing efficiency, including material formulation, substrate material, UV wavelength spectrum, cure setup design, and the consistent delivery of UV light in a controlled manner. Achieving optimal results in medical manufacturing hinges on meticulous control of the UV exposure process. UV systems with precise control over the output can empower manufacturers to refine curing parameters, thereby enhancing efficiency and quality. Active Closed-Loop feedback monitoring and control of UV output and tracking of light source operating parameters help maintain system optical output within a narrow operating range, guaranteeing impeccable process control. Radiometry accessories optimized for the light source can also play a pivotal role, allowing manufacturers to calibrate, measure, and control their UV output to ensure a well-controlled cure. Further, advanced communication capabilities, including Ethernet, NFC, and USB integration, can allow systems to seamlessly integrate into the realm of Industry 4.0, enabling remote monitoring and system management.
This webinar recording delves deeper into the transformative capabilities of modern UV curing systems and explore how it can revolutionize the curing process in medical manufacturing.
About the Presenters:
Divyanshu Gupta, Product Manager at Excelitas Technologies®, oversees the OmniCure® spot curing solutions. Divy holds a master's degree in applied Materials Engineering and has a wealth of experience in UV curing, materials engineering, and process optimization across various applications. Additionally, Divy has authored and published several research articles in these fields.
Roy Kayser is a Senior Global Application Manager at Excelitas Technologies. He has over 29 years of extensive engineering and integration experience and has worked across many industries and integrators over the years. Roy has authored many articles, application notes and white papers on UV curing solutions and has received 12 patents for various power and light source applications.
Register below to view the webinar recording.
Recording: Precision, Control and Repeatability: Harnessing the Power of UV Curing in Medical Manufacturing