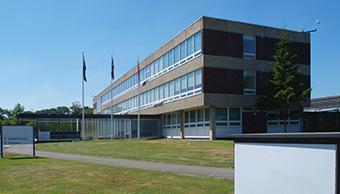 Qioptiq Ltd.
Glascoed Road,
St Asaph
Denbighshire
LL17 0LL
United Kingdom
Telephone
(+44) 1745-588000
Our Excelitas facility in St. Asaph, Denbighshire, United Kingdom specializes in the design, development, manufacture and support of complex optronic modules, systems and products for defense and aerospace applications and markets. This facility holds key positions in sales, marketing, research & development, engineering, manufacturing, coating, customer support and other disciplines.
The St. Asaph facility provides innovative solutions to a global customer base in the areas of infrared, image-intensified, and fused-surveillance and target-acquisition equipment for dismounted, vehicle and naval applications – avionic modules and components – space technology – optronics systems and sub-systems. We are a trusted key supplier to the world's Primes, Governments, MoDs and DoDs.
This facility has a significant capacity and capability for coating technology, high precision machining, test and qualification for the production and assembly of complex optical equipment, systems, modules and components.