Excelitas Technologies Launches High-Precision, Medical-Grade CaliPile TPiS 1T1386 L5.5H IR Temperature Sensor
Thermopile Sensor for Remote Skin-Temperature Measurement Applications Delivers Highest Temperature Accuracy, Configurable "Threshold" Functions and Lowest Power Consumption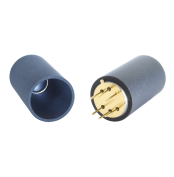 Excelitas Technologies® Corp., a leading industrial technology manufacturer focused on delivering innovative, market-driven photonic solutions, announces its latest CaliPile® innovation – the high-precision, medical-grade TPiS 1T1386 L5.5H Thermopile Sensor. Featuring high temperature accuracy, combined with configurable "threshold" functions and low power consumption during operation, TPiS 1T1386 L5.5H offers an ideal solution for remote skin-temperature measurement applications and temperature control of liquids and gases in medical applications. In addition, it offers fast remote over-temperature protection, mid-field human presence sensing, far-field human motion detection and passive light-barrier sensing for people counting.
The new IR sensor consists of an isothermal TO-39 package with high-sensitivity TP-chip, confined optics and an additional "lens-hood" for stray-light suppression, enabling thermal stabilization in harsh conditions. Its on-board EEPROM delivers highly precise factory calibration data storage and minimizes the need for re-calibration in the application for ease-of-use. Additionally, the CaliPile TPiS 1T1386 L5.5H's smart data processing allows the sensor to signalize fast temperature changes or over-temperature via in interrupt output aside of the precision temperature measurement. While the temperature calculation is done on the host based on the factory-calibration parameters, the sensor constantly monitors additional interrupt-based information such as over-heating, presence and near-field motion detection.
Additional features of the new TPiS 1T1386 L5.5H include:
High sensitivity thermopile with 5° field-of-view
Integrated 50 µW low-power signal processing
I2C interface, hardware-configurable address
Calibration data for ambient and object temperature sensing
Interrupt function for presence, motion, over-temperature and more
 
"Through our efforts to drive innovative sensor design and digitization, Excelitas is constantly working to build upon our award-winning CaliPile IR Sensor Series," said Fred Plotz, Product Leader at Excelitas. "The high-precision, medical-grade TPiS 1T1386 L5.5H accomplishes this by providing medical equipment suppliers, as well as safety and security companies, with an unprecedented multi-function sensing solution that meets the demands for a wide range of remote temperature measurement applications."
The new TPiS 1T1386 L5.5H CaliPile Sensor will be featured at Electronica in München, Germany, November 15 – 18, 2022 (Excelitas Booth # 303, Hall B3). For additional information, please visit the product webpage at: https://www.excelitas.com/product/tpis-1t-1386-l55-h-calipile-medical-grade-sensor.
# # # 
About Excelitas Technologies 
Excelitas Technologies® Corp. is a leading industrial technology manufacturer focused on delivering innovative, market-driven photonic solutions to meet the illumination, optical, optronic, sensing, detection and imaging needs of our OEM and end-user customers. Serving a vast array of applications across biomedical, scientific, semiconductor, industrial manufacturing, safety, security, consumer products, defense and aerospace sectors, Excelitas stands committed to enabling our customers' success in their many various end-markets. Our team consists of more than 7,500 professionals working across North America, Europe and Asia, to serve customers worldwide. 
Connect with Excelitas on Facebook, LinkedIn, Twitter and Instagram, or visit http://www.excelitas.com for more information.
Excelitas®, Excelitas Technologies® and CaliPile® are registered trademarks of Excelitas Technologies Corp. All other products and services are either trademarks or registered trademarks of their respective owners.
 
Contacts:
Scott Orr 
Senior Director of Global Marketing - Commercial 
[email protected]   
+1 (781) 996-5925 
Cheryl Reynhout or Jill Anderson 
On Behalf of Excelitas Technologies Corp. 
SVM Public Relations 
[email protected] 
+1 (401) 490-9700 
Download a PDF of this press release.