Qioptiq Introduces Motorized LINOS Beam Expander 1x-4x for 515nm-540nm or 1030nm-1080nm
Qioptiq Introduces Motorized LINOS Beam Expander 1x-4x for 515nm-540nm or 1030nm-1080nm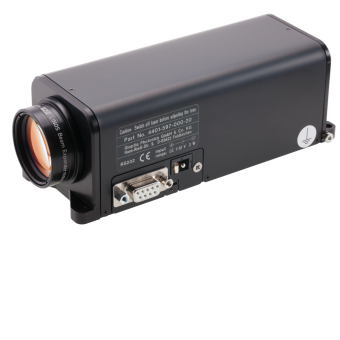 LINOS Beam Expander
Qioptiq, an Excelitas Technologies® Company and global technology leader in delivering innovative optical and photonic solutions, introduces its next-generation model of the motorized LINOS Beam Expander 1x-4x for 515nm-540nm or 1030nm-1080nm. The sophisticated, motorized variable beam expander allows an adaption of the focus diameter, focal position and spot quality. Its motorization contributes to considerably reduced set-up times and higher repetition accuracy for a wide variety of laser material processing, display, semi, micro machining, solar and battery applications.
The new LINOS Beam Expander enables an external control that allows for universal and flexible use of the laser light in production processes to meet the need of different beam diameters and defocusing of the laser. Additional product features include:
Constructed and assembled under clean room conditions utilizing proven Qioptiq assembly technologies, special auxiliary materials and adapted manufacturing processes to deliver high precision and repeatability.
Beam expander for magnifications of 1x-4x with 8mm input beam diameters to enable different laser sources and big laser entrance beam.
Fused silica design with a low absorption broadband coating to minimize thermal effects and to handle high power and ultra-short pulses.
"We developed the next-generation of fused silica motorized Beam Expander 1x-4x for 515nm-540nm or 1030nm-1080nm utilizing the technology from our very successful motorized Beam Expander with 2x-8x magnification," said Matthias Koppitz, Application Engineer at Excelitas Technologies. "The enhanced variable LINOS Beam Expander 1x-4x features proven Qioptiq electronic interfaces, software features and diverse technologies to achieve the best accuracy and pointing stability. The beam expander's 1x-4x magnification range and big useable entrance aperture were especially adapted to meet the need for a modern laser source with bigger laser beam diameters."
The new motorized beam expander is interchangeable with Qioptiq's previous model (2x-8x), while offering highest performance and proven serial quality.
About Excelitas Technologies
Excelitas Technologies® Corp. is a global technology leader focused on delivering innovative, high-performance, market-driven photonic solutions to meet the lighting, optronics, detection and optical technology needs of global customers. Serving a vast array of applications across biomedical, scientific, safety, security, consumer products, semiconductor, industrial manufacturing, defense and aerospace sectors, Excelitas Technologies stands committed to enabling our customers' success in their end-markets. Excelitas Technologies has approximately 6,700 employees in North America, Europe and Asia, serving customers across the world. Connect with Excelitas on Facebook, LinkedIn and Twitter.
About Qioptiq
Qioptiq designs and manufactures photonic products and solutions that serve a wide range of markets and applications in the areas of medical and life sciences, industrial manufacturing, defense and aerospace, and research and development. Qioptiq benefits from having integrated the knowledge and experience of Avimo, Gsänger, LINOS, Optem, Pilkington, Point Source, Rodenstock, Spindler & Hoyer and others. 
Contacts:
Scott Orr
Senior Director of Corporate Marketing, Excelitas Technologies Corp.
[email protected]
(+1) 781-996-5925
Cheryl Reynhout or Jill Anderson
on Behalf of Excelitas Technologies Corp.
SVM Public Relations
[email protected]
(+1) 401-490-9700
Excelitas® is a registered trademark of Excelitas Technologies Corp. All other products and services are either trademarks or registered trademarks of their respective owners.