Cermax Xenon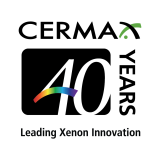 Celebrating its 40th anniversary, Cermax® Xenon is a trusted brand in medical lighting applications and recognized for its high-intensity, perfect white, bright light, whether for endoscopic illumination, surgical headlamps, or robotic surgery equipment. Since the introduction of our short-arc Xenon lamps in the early 1980s, the Cermax Xenon brand can be found in over 90% of hospitals worldwide.
Offered in both metal-body and ceramic-body designs, the Cermax Xenon short-arc lamps are uniquely designed for a variety of specialty lighting applications including video projection, solar simulation, dental UV curing, industrial UV curing, microscopic illumination, and other high-performance applications.
Advanced Cermax Xenon Power Supplies are also available for the specialty lighting industry and used in a wide variety of high-performance applications including medical, dental, endoscopy, industrial, and image projection.
Need something better suited to your specific requirements?
Engage Excelitas to meet your most complex custom requirement.