iFLEX Diode Lasers and Fiber-Optic Delivery
Excelitas offers a variety of free-beam and fiber-coupled diode and solid-state iFLEX-iRIS® laser modules and multi-line laser engines that deliver exceptional stability for today's most demanding high-resolution biomedical imaging and metrology applications. We also manufacture a wide variety of single mode fiber-based kineFLEX® laser beam delivery systems for precision measurement and biomedical applications.​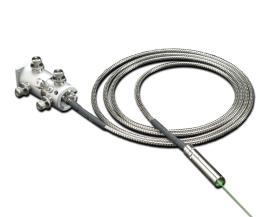 kineFLEX Fiber-Optic Laser Delivery
The kineFLEX® is a robust single-mode, polarization-maintaining fiber delivery systems suitable for use with most lasers. We deliver the world's best beam pointing stability, making them industry standard in many imaging and precision measurement applications. This fiber delivery system...
Read More
iFLEX Diode & DPSS Lasers
Originating from our Qioptiq® photonic heritage, our iFLEX® diode and solid state lasers are engineered for the highest reliability, power stability and minimal amplitude noise. Robust plug & play solutions are compatible with our kineFLEX® Fiber Delivery System for accurate beam alignment and...
Read More