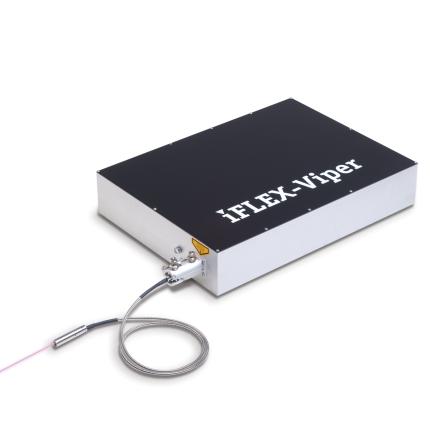 iFLEX-Viper Multi-Line Laser Engine
The iFLEX-Viper® is a high-performance, solid-state, multi-wavelength laser engine combining up to five wavelengths in a single system with combined, co-axial output. Robust design eliminates the need for user alignment of the internal laser sources. The system is mode-hop free and wavelength stabilized as a direct result of active temperature control. Automatic Closed-Loop Modulation (CLM) provides long-term power stability. Offers independent and simultaneous control over each laser. Integratable wavelengths include: 405, 455, 488, 515, 532, 561 and 640 nm with power outputs up to 50 mW at the end of the fiber.
Precision Control
Power adjustment and modulation pattern for each laser is independently controlled; instead of combining beams through an AOTF and allowing the lasers to always emit. Fully independent laser control enables instantaneous switching between wavelengths and simultaneous emission of any wavelength combination.
Permanent Laser Alignment
Robust, novel, opto-mechanical design eliminates need for user alignment of the laser sources. It requires only a drive signal per line to initiate laser emission and the ultra-stable design delivers reliable and repeatable measurements. It is a true turnkey system which connects easily to microscopes and other instruments. Compact OEM versions are also available.
Fiber Delivery
iFLEX-Viper is compatible with our kineFLEX® single-mode, polarization-maintaining fiber delivery system. After the fiber output, the different wavelength beams remain co-axial, polarized and combined as they propagate through any other optics and onto the sample where they overlap. The kineFLEX fibers are offered in varying lengths with either collimated or connector outputs.
iFLEX-Viper Features
Up to five output beams: Combined, coaxial
Fully independent laser control
True Off for each wavelength
Exceptional power stability
Class-leading beam pointing stability
Ultra-low noise performance
Available Wavelengths: 405, 445, 488, 532, 561, 640 nm
Available Wavelengths: 405, 445, 488, 532, 561, 640 nm
Optical Power Stability: < 2 % (over 8 hours)
Analog Modulation: 3 MHz
Center Wavelength: ±5 nm
Compact design (455L x 335W x 84H mm)
Available Wavelengths: 405, 445, 488, 532, 561, 640 nm
Optical Power Stability: < 2 % (over 8 hours)
Analog Modulation: 3 MHz
Center Wavelength: ±5 nm
Compact design (455L x 335W x 84H mm)