Solidtron Thyristors
The Solidtron family of products employ our advanced high voltage thyristors having incredibly fast and predictable turn-on performance as well as remarkably low conduction loss.  These key attributes make Solidtron products ideally suited for use in a wide variety of pulsed-power applications where precise turn-on characteristics, reliability and longevity give them distinct advantages in certain applications over tube and spark-gap technology.
Solidtron products are a solid-state replacement for many spark-gaps, thyratrons, ignitrons and other legacy closing-switch technologies.
Additional Resources
Why should you choose Excelitas as your provider of Solidtron Thyristors?
Excelitas is unmatched when it comes to the design and manufacture of thyristors suited for a wide variety of pulsed-power applications. Our Solidtron family of high-quality products utilizes our advanced, high-voltage solutions having fast, reliable turn-on performance, while producing minimal conduction loss. In addition, we uphold the highest standards in the production of thyristor solutions to ensure the longevity and reliability of our products to help customers meet their requirements.
What are the different Solidtron Thyristor uses?
Thyristors can be installed in various types of circuits. For example, they can be used in power-switching circuits, oscillators, level-detectors, light dimmers, and logic circuits, among others. Specifically, the Solidtron line of thyristors by Excelitas is optimized and manufactured for military applications to supply the rapid charge transfer capabilities and precise control needed in the activation of Low Energy Exploding Foil Initiators (LEEFI) with greater reliability.
What types of Solidtron Thyristors do you offer?
Excelitas offers a wide range of Solidtron Thyristors in the form of Initiator Firing Switches widely adopted in various industries, especially those involved in weapons manufacturing. The ultra-fast, high-voltage thyristor packages offered by Excelitas include the SP205-01/SP205-01T Fpak, the SP205-01 Cpak, and the SP245-03 JEDEC TO-247, all offering low turn-on delay time and low conduction loss.
What are the applications of Solidtron Thyristors?
Excelitas offers thyristor solutions that have been manufactured with efficiency and reliability in mind. Solidtron Thyristor uses are wide-ranging and can be applied in LEEFI detonators, MIL-STD-1316 compliant electronic safe and arm devices, MIL-STD-1901A compliant rocket motor ignition safety devices, firing modules, and capacitor discharge units.
Do you offer Custom Solidtron Thyristors?
Absolutely! As experts in the conceptualization, design, and manufacture of thyristors, Excelitas is able to supply the needs of customers in various sectors and offer products that meet their requirements across a wide range of applications. Aside from our comprehensive offering of off-the-shelf products, we also provide custom solutions that meet your design criteria and specifications. If you require customized thyristors, communicate them with us, and we will ensure to accommodate your requests during conceptualization and design.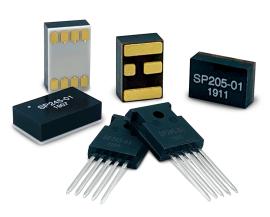 Initiator Firing Switches
Excelitas' Solid-State Initiator Firing Switches are miniature advanced thyristors optimized for the precise control and rapid charge transfer needed for the reliable activation of Low Energy Exploding Foil Initiators (LEEFI) including Excelitas' own Blue Chip<sup>®</sup> Detonator. Due to...
Read More