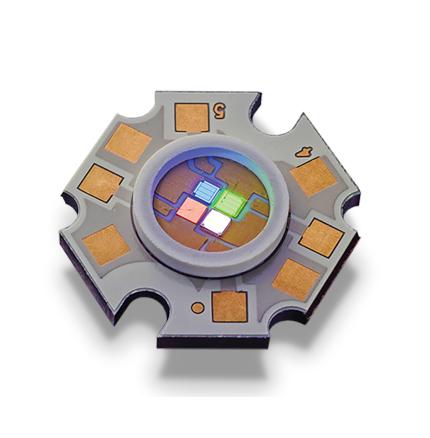 PART/ ACULED
ACULED Addressable Quad Chip LED Arrays
The ACULED® platform is a chip-on-board (COB) LED package containing four separately-addressable LED chips. We offer a wide selection of standard or custom wavelengths and various CCT whites with high color rendering. The ACULED package is ideal in medical lighting applications requiring tunable CCT white lighting with high CRI.
The ACULED gives customers the flexibility to "Design-Your-Own" four-chip LED configuration from a list of standard or custom chip options including white chips, UV, IR, and sensor chips to suit specific lighting application requirements.  The wavelengths can range from 254 nm - 1,200 nm.
Tunable White Lighting
With 4 individually addressable LED chips, users can achieve tunable color temperatures (CCT) from 2,700 to 6,500 K, while maintaining the high CRI and high R9 value. ACULED packages are ideal for medical applications such as surgical lighting and dental lighting.
Superior Color Mixing
The ACULED offers superior color mixing due to close chip placement.   Optical designers can easily mix the light from each chip to achieve optimum color appearance at the illumination surface.
High Power
Our ACULEDs have 4 chips with current capability up to 1,000 mA which allows users to achieve high light output from  a single package while using fewer optics.
Wavelength selection - 254-1,200 nm
White CCT range - 2,700-6,500 K
CRI - 95 typical, 92 minimum
R9 - 93 typical, 85 minimum
DC forward current maximum - 700-1,000 mA
Low thermal resistance - 5 K/W depending on chip selection
Near-Lambertian emission
ROHS-compliant
Wavelength selection - 254-1,200 nm
White CCT range - 2,700-6,500 K
CRI - 95 typical, 92 minimum
R9 - 93 typical, 85 minimum
DC forward current maximum - 700-1,000 mA
Low thermal resistance - 5 K/W depending on chip selection
Near-Lambertian emission
ROHS-compliant