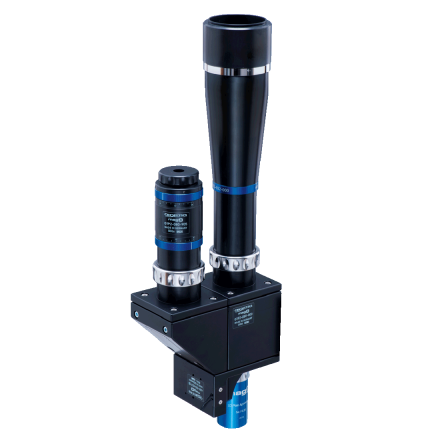 mag.x 125 Widefield Microscope System
Evolving from our Qioptiq® heritage for optical excellence, the mag.x system 125 represents a new class of optical systems that enable microscope-like resolution with wide fields-of-view supporting modern high resolution sensors up to 57 mm diameter. The variable system is fully modular and ideally suited for submicron imaging in inspection and measurement applications. The modular approach enables adaptation of the system to many applications ranging from a straight forward optical system without illumination to a full featured system including coaxial illumination and closed-loop autofocus.
High-resolution imaging across a wide field-of-view
With integrable autofocus modules, mag.x system 125 fulfills the most demanding inspection tasks in the automated industrial environment. Various inspection applications benefit from the "closed-loop" autofocus solution to increase their cycle times and thus their throughput.
High resolution inspection is being used in many applications. Each application has its own requirements and constraints. In order to cater for all these diverse needs, the mag.x system 125 is as modular as they come. Integration of customized elements is easy and enables a system that integrates seamlessly into the surrounding equipment. The mag.x 125 system can be combined with our range of objective lenses, tube lenses, illumination tubes, autofocus modules, mounting plates and other accessories to meet your application needs. Learn more by visiting our Qioptiq-Shop.
Our Quality Criteria:
Precision engineering with innovative optical design
Exact telecentricity on object and image side
Diffraction limited optical performance over complete image circle
Precise and dynamic autofocus
Ideal Applications:
Inspection and processing of semiconductor, flat-panel display (TFT & OLED) and printed circuit boards (PCB), micro measurement & metrology, MEMS & nanotechnology, fluorescence microscopy, digital pathology and many more.

| | |
| --- | --- |
| NA Numerical aperture in the object space = n · sin (σ) | R'0 Cut off frequency in image space at 546 nm |
| WD Working distance | R0 Cut off frequency in object space at 546 nm R0 = (2 · NA) / λ |
| f'obj Focal length of the objective | 2y' Image field size (maximum detector diagonal) |
| f'tub Focal length of the tube lens | 2y Object field size |
| δobj Depth of field at 546 nm δobj = ±n · λ/(2 · NA2) | M Magnification of the overall system; M = Mobj · Mtub |

| | |
| --- | --- |
| NA Numerical aperture in the object space = n · sin (σ) | R'0 Cut off frequency in image space at 546 nm |
| WD Working distance | R0 Cut off frequency in object space at 546 nm R0 = (2 · NA) / λ |
| f'obj Focal length of the objective | 2y' Image field size (maximum detector diagonal) |
| f'tub Focal length of the tube lens | 2y Object field size |
| δobj Depth of field at 546 nm δobj = ±n · λ/(2 · NA2) | M Magnification of the overall system; M = Mobj · Mtub |