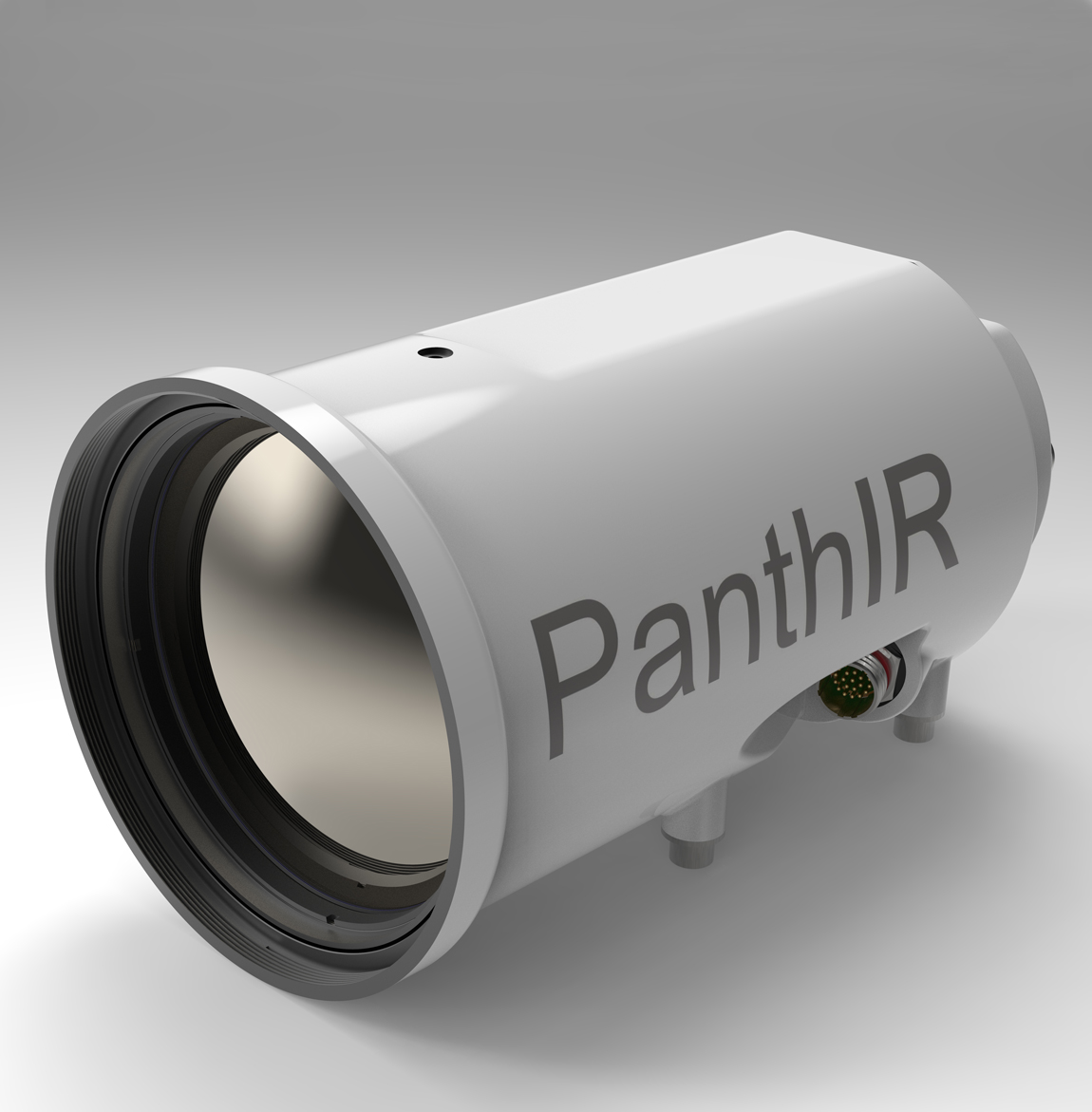 PanthIR Medium Range, HD-Ready, Uncooled LWIR Camera
PanthIR is an uncooled Long Wave Infrared (LWIR) thermal imaging camera which has been optimized for both 17µm and 12 µm focal plane arrays, including XGA formats.The field-proven, ruggedized opto-mechanical assembly provides x10 zoom, which can be used either as a continuous or stepped zoom dependent upon requirements - continuous to maintain eyes on target whilst zooming in, or fast action dual or multiple field of view solution.The single MIL-38999 connector allows for simple integration within a system routing power, communications and video through a single interface.
PanthIR has been optimized for both current 17 µm focal plane arrays and the very latest 12 µm arrays.  This allows systems to be future proofed and upgraded as technology matures.  The optimized design means that optical imaging is achieved for either format FPA without losing imaging performance.
Providing a continuous or configurable stepped zoom makes PanthIR suitable for multiple applications.  It can be used as a situational awareness/surveillance camera or for fire control applications (e.g. remote weapon stations) where rapid changes between set fields of view is important to positively identify the target.
Uncooled Long Wave Infrared (LWIR) technology is mature, proven and cost effective. PanthIR is a high performance, affordable solution offering excellent imaging even through sand/dust, high humidity/fog and  battlefield obscurants. PanthIR is the perfect solution for a medium range surveillance camera, remote weapon station camera or as part of a counter-UAV platform.  
PanthIR has been designed to be core agnostic thus allowing integration of the latest and most advanced cores as they become available.  This feature also means that both ITAR and non-ITAR variants can be supplied and specific cores can be integrated should the user have a preference, or incumbent solutions and system protocols exist.
Key Features
Optimized for 17 µm and 12 µm sensors
Continuous or stepped zoom
Uncooled LWIR technology
Core Agnostic
MBT Detection at 15 km
F-Number: F/1.3
Focal Length: 19 mm - 190 mm
Zoom Ratio: x10 Continous Zoom (can be configured to stepped zoom)
Optical Coating: Hard Carbon
Shock & Vibration: MIL-STD-810G
Video Format: PAL
F-Number: F/1.3
Focal Length: 19 mm - 190 mm
Zoom Ratio: x10 Continous Zoom (can be configured to stepped zoom)
Optical Coating: Hard Carbon
Shock & Vibration: MIL-STD-810G
Video Format: PAL