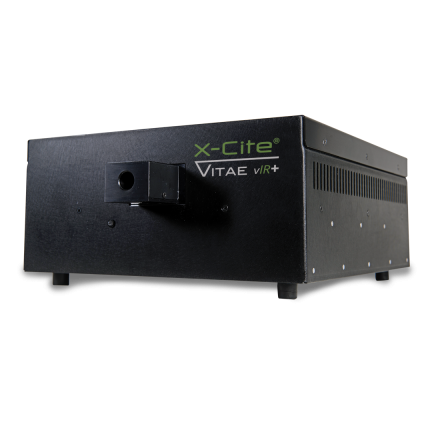 X-Cite Vitae vIR and vIR+
The X-Cite VitaeTM vIR and vIR+ are versatile, high performance solid-state illumination systems designed for high precision medical illumination and diagnostic applications such as endoscopy and surgical visualization. The high-brightness, white light sources feature high output power and are designed to replace traditional 180 W or 300 W Xenon sources, with adjustable color temperature in easily-integrative turnkey systems.
The X-Cite Vitae vIR and vIR+ maintain color balance over their lifetime with optional feedback sensors and ensure color uniformity across large field-of-views. The systems will match any CCT with individual RGB control, and can achieve CRI of over 90% required for medical applications. Light delivery can be designed to maximize coupling efficiency to the sample of interest. The addition of UV and NIR wavelengths allows for excitation of surgical fluorophores ranging from PPIX (UV excitation) to ICG (NIR excitation).
Features and Benefits:
High power white light: Replace traditional xenon lamps
Tunable RGB: Match any CCT and achieve high CRI
UV and NIR options: Excite contrast fluorophores used in surgery
Feedback sensors option: Monitor power and color balance over lifetime
Manual, RS232, TTL, analog control options: Simplify operation through multiple control options
Customizable for NA, light delivery and unit size: Maximize flexibility to meet application requirements
Solid-state technology: Extend lifetime with no bulb replacement costs or related down-time
TECHNICAL SPECIFICATIONS

Output

Customized fiber and light delivery

Color

Wavelength Range (nm)

 

 

Wavelengths*

UV

400 - 425 >1.5 W output

Blue

435 - 470

Green

500 - 600

Red

610 - 645

IR

795 - 805 >5 W output

Response Times

TTL/Analog = 100 us @100%, 1ms between colors

Control Options

Manual on/off and intensity control – 1% increments for each color USB, RS232, TTL, Analog

I/O Connectivity

TTL – input for on/off control: 2.4 V-5 V TTL compatibility Analog – input for intensity control

Color Temperature

Tunable CCT for RGB white configuration

Color Rendering Index

Spectral shaping for high CRI

Feedback Sensors

Output monitoring

Input Voltage

100-240 VAC, 50/60 Hz; 7.3 A/3.0 A

System Dimensions

12.0" x 13.0" x 6" (L x W x H)

*Customizable upon request
TECHNICAL SPECIFICATIONS

Output

Customized fiber and light delivery

Color

Wavelength Range (nm)

 

 

Wavelengths*

UV

400 - 425 >1.5 W output

Blue

435 - 470

Green

500 - 600

Red

610 - 645

IR

795 - 805 >5 W output

Response Times

TTL/Analog = 100 us @100%, 1ms between colors

Control Options

Manual on/off and intensity control – 1% increments for each color USB, RS232, TTL, Analog

I/O Connectivity

TTL – input for on/off control: 2.4 V-5 V TTL compatibility Analog – input for intensity control

Color Temperature

Tunable CCT for RGB white configuration

Color Rendering Index

Spectral shaping for high CRI

Feedback Sensors

Output monitoring

Input Voltage

100-240 VAC, 50/60 Hz; 7.3 A/3.0 A

System Dimensions

12.0" x 13.0" x 6" (L x W x H)

*Customizable upon request