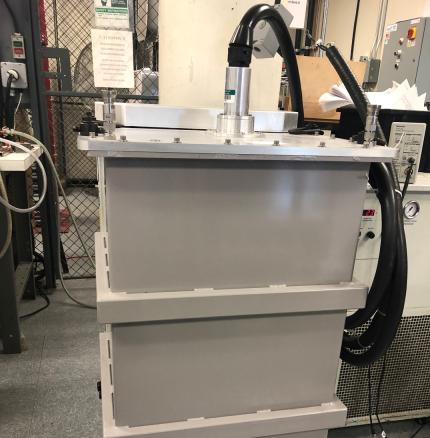 PART/ 1102680-X
E-Beam Supply, High power, 100mA
The Excelitas -150kV, 100mA E-Beam HVPS power supply with integrated AC Filament Driver of 25 Vac, 50Hz, <20 Arms and Grid Driver of -30 - +170Vdc, 200mA. Grid-driver power supplies are negative, highly regulated power supplies designed for use in E-Beam systems, capable of producing 0 to -150kVdc, 100mA of DC power. The power supplies is designed to run continuously at full output power.
Integrated AC Filament Power Supply is capable of producing 0 to 25Vac, 20Aac at 50 Hz.
Integrated DC Grid Power Supply is capable of producing -30Vdc to +170Vdc, 200mA.
The power supplies are comprised of water cooled oil filed tank and power electronics box and no external air cooling.
High frequency power conversion technology is used for all power supply functions. Extensive internal interlocks and diagnostics are incorporated to provide reliable and safe operation, as well as to facilitate installation and troubleshooting.
Control of the power supplies is performed through analog interface terminal blocks located on the internal control board under protection cover.
AC Mains is 400Vac, 3-Phase, 50/60Hz 30A (4 wire, 3-phase with earth)
HV Range: 0-negative 150kV
Output current 0-100mA
Maximum output power : 15kW
Filament Drive Frequency: 50Hz
Grid Driver sink capability: <200mA
Cooling water flow rate: 0.6 - 1.1 GPM
AC Mains is 400Vac, 3-Phase, 50/60Hz 30A (4 wire, 3-phase with earth)
HV Range: 0-negative 150kV
Output current 0-100mA
Maximum output power : 15kW
Filament Drive Frequency: 50Hz
Grid Driver sink capability: <200mA
Cooling water flow rate: 0.6 - 1.1 GPM