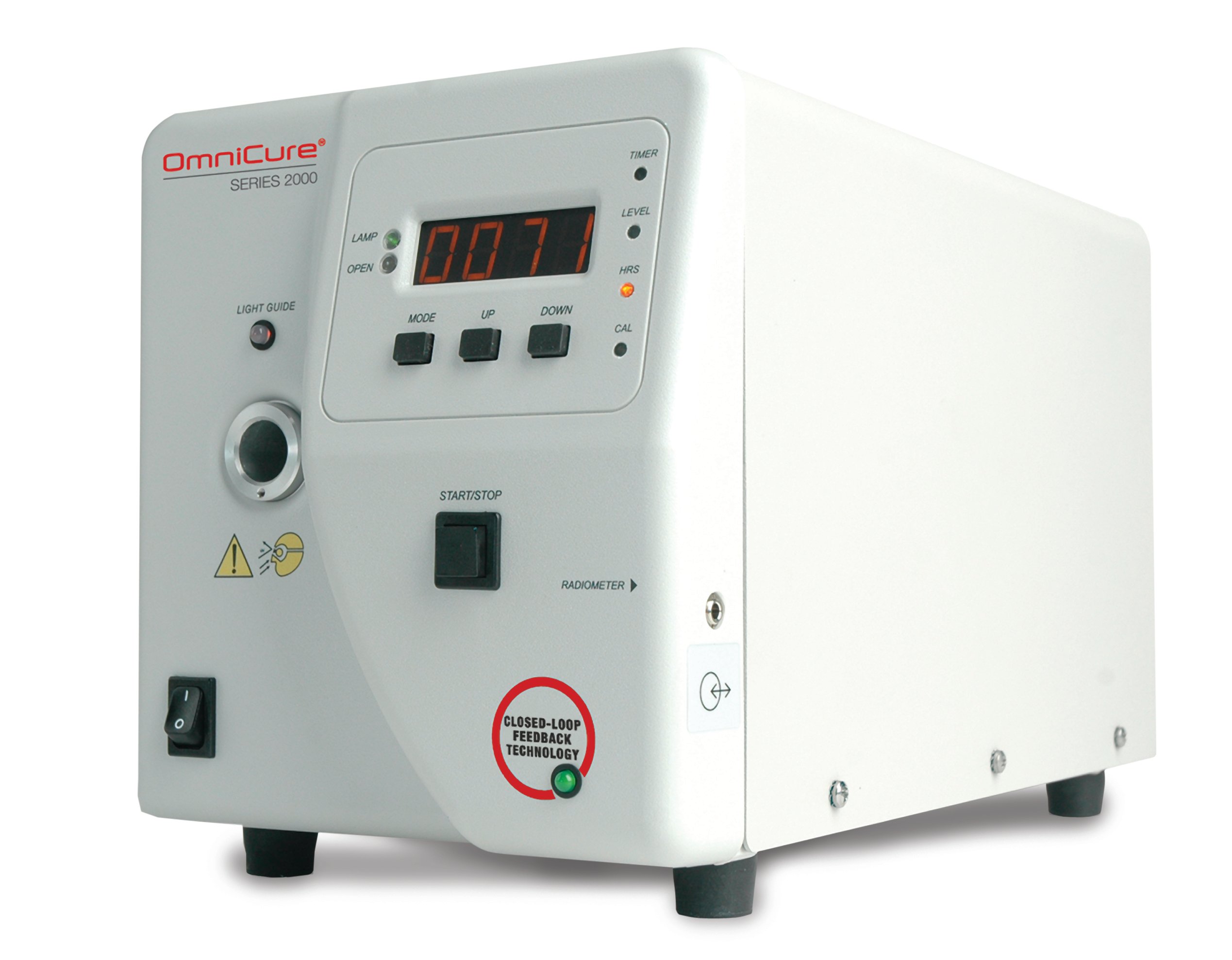 PART/ S2000
OmniCure S2000 Spot UV Curing System
The OmniCure® S2000 Spot UV Curing System offers the highest level of process control and consistency with our proprietary, real-time Closed-Loop Feedback technology using an integrated optical UV sensor. When paired with an OmniCure R2000 radiometer, the S2000 UV curing system is unmatched in precision light delivery and repeatable, adhesive curing results.
The OmniCure S2000 comes with a powerful 200 Watt UV lamp yielding outputs of up to 30 W/cm2 . It has a guaranteed lamp life of 2000 hours with typical lifetimes up to 4000 hours. When combining high output power with its broad spectral adhesive compatibility and automatic hours-of-use tracking via its patented Intelli-Lamp® technology, the S2000 is the most value-added and intelligent UV curing lamp system of its kind. 
When it comes to peace-of-mind and consistent results of a production process, the OmniCure S2000 is recognized as the global leader in spot UV curing for precision assemblies using light-cured adhesives.  Ideal for a variety of industries including electronics, medical device and opto-electronics assemblies, the OmniCure S2000 provides fast, strong cures of UV adhesives which results in superior product quality, rapid production, and low manufacturing costs.
 OmniCure S2000 Spot UV Curing System

 Lamp

 High Pressure 200 Watt Mercury Vapor Short Arc

 Lamp Life

 2000 hours (guaranteed)

 Available Filters

 Standard: 320-500 nm

 Optional: 250-450 nm*, 365 nm, 320-390 nm, 400-500 nm

 Panel Controls

 Power On/Off, Display Mode, Adjust Up/Down, Start/Stop, Lock/Unlock

 

 Panel Displays

 Accumulated lamp usage, Exposure time (0.2 - 999.9 sec), iris setting   (0-100%) / irradiance level (0.2 W/cm² - 40 W/cm²), lamp on/warm-up,   shutter open, calibrated, Light Guide detection, shutter/lamp error

 Warm-up Period

 4 minutes (typical)

 Power In

 100-120 VAC / 200-240 VAC, 50/60 Hz

 Power Supply

 High efficiency, switch mode, line isolated

 Dimensions (L x W x H)

 13.3" x 7.1" x 7.9" (33.8 cm x 18.0 cm x 20.1 cm)

 Weight

 9.9 lbs (4.5 kg)

 Includes

 Lamp Module, Selected Filter (installed), Protective Eyewear, Grounded and Shielded Power Cord, Foot Pedal, Manual

 Warranty

 1 year (excluding Lamp and Light Guide)

*Blank filter; must be used with fiber or extended range light guide
Please Note: Hg-LAMP CONTAINS MERCURY, Manage in Accord with Disposal Laws, See: www.lamprecycle.org or call 1-800-668-8752
Faster Shutter Activation Time: Increase productivity, especially for high volume manufacturing
Downloadable StepCure Software: Download customized multi-phase cure profiles directly to the unit. No need for a permanently connected PC
Modified PLC Level Mode: Provide trigger signal versatility by selecting either edge or level modes
200 W lamp technology with up to 30 W/cm2 of output and a 2000 hour lamp life guarantee: Lower operating costs
Intelli-Lamp Technology to cool lamp and monitor lamp hours: Maintain optimum operating condition, stable lamp output, longer lamp life, accumulated lamp hours
2 Lamp Options: Special lamp technology for acrylic adhesives provides a tack-free surface cure
Closed-Loop Feedback Technology: Automatically maintain a constant output for a repeatable curing process
External PC Controlled: Beneficial for automated assembly processes
Adjustable light output in 1% increments: Allowing very precise control of output
Easily combined with the OmniCure R2000 Radiometer: Calibrate and set absolute irradiance levels wirelessly from a single reference point
 OmniCure S2000 Spot UV Curing System

 Lamp

 High Pressure 200 Watt Mercury Vapor Short Arc

 Lamp Life

 2000 hours (guaranteed)

 Available Filters

 Standard: 320-500 nm

 Optional: 250-450 nm*, 365 nm, 320-390 nm, 400-500 nm

 Panel Controls

 Power On/Off, Display Mode, Adjust Up/Down, Start/Stop, Lock/Unlock

 

 Panel Displays

 Accumulated lamp usage, Exposure time (0.2 - 999.9 sec), iris setting   (0-100%) / irradiance level (0.2 W/cm² - 40 W/cm²), lamp on/warm-up,   shutter open, calibrated, Light Guide detection, shutter/lamp error

 Warm-up Period

 4 minutes (typical)

 Power In

 100-120 VAC / 200-240 VAC, 50/60 Hz

 Power Supply

 High efficiency, switch mode, line isolated

 Dimensions (L x W x H)

 13.3" x 7.1" x 7.9" (33.8 cm x 18.0 cm x 20.1 cm)

 Weight

 9.9 lbs (4.5 kg)

 Includes

 Lamp Module, Selected Filter (installed), Protective Eyewear, Grounded and Shielded Power Cord, Foot Pedal, Manual

 Warranty

 1 year (excluding Lamp and Light Guide)

*Blank filter; must be used with fiber or extended range light guide
Please Note: Hg-LAMP CONTAINS MERCURY, Manage in Accord with Disposal Laws, See: www.lamprecycle.org or call 1-800-668-8752
Faster Shutter Activation Time: Increase productivity, especially for high volume manufacturing
Downloadable StepCure Software: Download customized multi-phase cure profiles directly to the unit. No need for a permanently connected PC
Modified PLC Level Mode: Provide trigger signal versatility by selecting either edge or level modes
200 W lamp technology with up to 30 W/cm2 of output and a 2000 hour lamp life guarantee: Lower operating costs
Intelli-Lamp Technology to cool lamp and monitor lamp hours: Maintain optimum operating condition, stable lamp output, longer lamp life, accumulated lamp hours
2 Lamp Options: Special lamp technology for acrylic adhesives provides a tack-free surface cure
Closed-Loop Feedback Technology: Automatically maintain a constant output for a repeatable curing process
External PC Controlled: Beneficial for automated assembly processes
Adjustable light output in 1% increments: Allowing very precise control of output
Easily combined with the OmniCure R2000 Radiometer: Calibrate and set absolute irradiance levels wirelessly from a single reference point