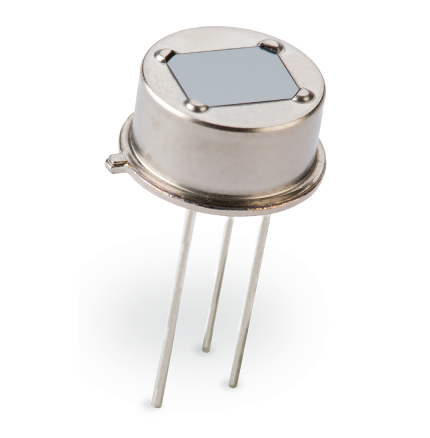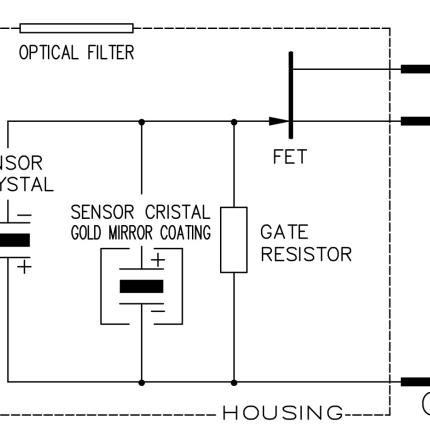 PART/ PYS 3198 TC GX (LHi 807)
PYS 3198 Single-Channel Pyrodetector
Excelitas Single-Element Pyrodetectors combine one sensing element with the optical window, making them ideally suited for gas measurement and monitoring applications. The PYS 3198 TC GX (replacement to LHi 807) is a single channel, parallel format temperature-compensated elements detector based on lithium-tantalate (Li-Ta).
In the design for our PYS 3198 TC Pyrodetector, a single sensing element is placed in the center of the detector. For thermal compensation an additional element, (which is blinded from radiation), is connected in parallel. The TO-5 Metal Housing is equipped with an optical filter window.
For gas measurement applications with our Single-Element Pyrodetectors, typically the spectral range is narrowed to match the gas absorption in the IR range. As such the window is acting as a narrow-band optical filter.
Features
G2 filter
Single-channel PIR
High-responsivity Li-Ta element
135◦ field-of-view
TO-5 metal housing for high EMI immunity
Applications
Non-dispersive infrared (NDIR) gas sensing
CO2 Channel
You can select from a variety of options for the PYS 3198 TC GX or contact us to engage a custom detector solution for your specific requirement.
Responsivity: 3.5kV/W (typical)
Noise: 15 µVpp (typical) / 50 µVpp (max)
Operation requirements: 2.0-10V
Housing with optical window: TO-5, different spectral ranges available
Field-of-View (horiz/vert): 135°/120°
Responsivity: 3.5kV/W (typical)
Noise: 15 µVpp (typical) / 50 µVpp (max)
Operation requirements: 2.0-10V
Housing with optical window: TO-5, different spectral ranges available
Field-of-View (horiz/vert): 135°/120°