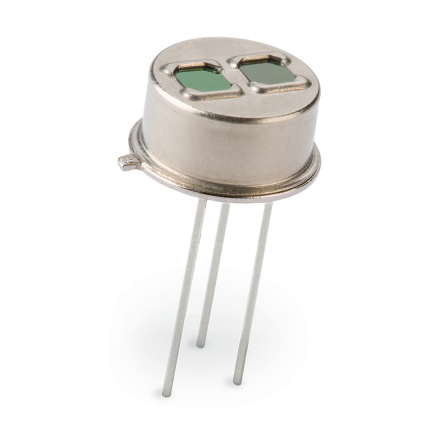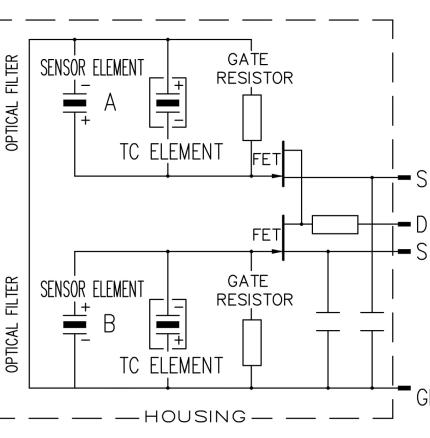 PART/ PYS 3428 GX GY TC (LHi 814)
PYS 3428 Dual-Channel Pyrodetector
As a Dual-Channel, Single-Element Pyrodetector, the PYS 3428 (replacement to LHi 814) includes two single-elements which are each thermally compensated. Each output is optically linked to an individual optical window within the TO-5 Metal Housing. For each window a variety of narrow-band optical filters are available to meet a range of specific sensing requirements.
Almost like two detectors in one housing, the PYS 3428 Pyrodetector includes two sensing elements, each positioned with it's own optical window. Each element has its own individual output signals, thus the name Dual-Channel. Both elements are thermally compensated by an additional blinded element sitting aside.
Since the PYS 3428 Pyrodetector has been specifically designed for gas measuring applications, it comes with narrow-band optical filter windows. Typically one window is used as reference, for which we provide the filter version G20 as the reference window.
Features
G2 G20 filter (exemplary for CO2 gas sensing)
Two separate PIR channels
High-responsivity pyroelectric elements
77◦ field-of-view
TO-5 metal housing for high-EMI immunity
Additional EMI filtering at input lines
Applications
Non-dispersive infrared (NDIR) gas sensing
CO2 vs reference channel
Responsivity: 3.5 kV/W (typical)
Noise: 15 µVpp (typical) / 50 µVpp (max)
Operation requirements: 2,0-10 V
Housing with optical window: TO-5, different spectral ranges available
Field-of-View (horiz/vert): 77°/77°
Responsivity: 3.5 kV/W (typical)
Noise: 15 µVpp (typical) / 50 µVpp (max)
Operation requirements: 2,0-10 V
Housing with optical window: TO-5, different spectral ranges available
Field-of-View (horiz/vert): 77°/77°