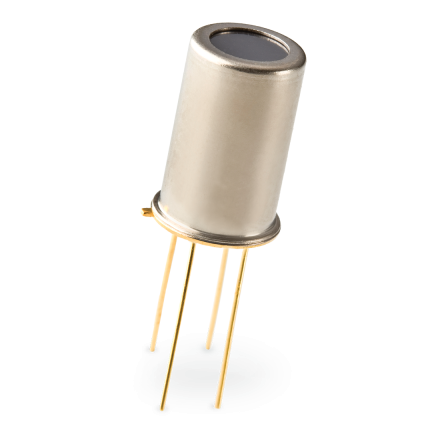 PART/ TPD 1T 0226 IRA
TPiD 1T 0226 IRA Thermopile with integrated reflector
The Excelitas TPD 1T 0226 IRA Thermopile Detector with integrated optics is available in "IRA" high metal can which includes an integrated reflector for collecting the radiation receipt.
The IRA Type Thermopile is specially suited with an internal reflector that reduces the field-of-view and offers a smaller measurement "target" spot than conventional detectors without optics. To accommodate the reflector, the housing height is taller than other Excelitas Thermopiles, but shares the standard TO-5 housing diameter.
All Thermopile versions are equipped as standard with an internal Thermistor as temperature reference for Thermopile temperature compensation.
Features
TO5 metal housing
Thermistor included
Integrated optics
Applications
Non-contact temperature measurement
Thermometry
TPiD 1T 0226 IRA
Responsivity: 45 V/W
Sensitivity S100: 82 µV/K
Noise: 35 nV/√Hz
Time Constant: 22 ms
Housing with integrated reflector: long version of TO-5
Field of View: 15° 
TPiD 1T 0226 IRA
Responsivity: 45 V/W
Sensitivity S100: 82 µV/K
Noise: 35 nV/√Hz
Time Constant: 22 ms
Housing with integrated reflector: long version of TO-5
Field of View: 15°