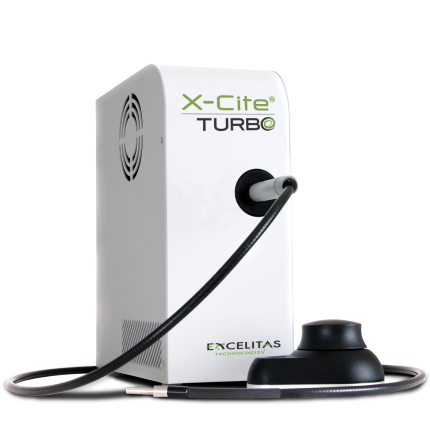 X-Cite TURBO Multi-wavelength LED Illumination System
The X-Cite TURBO® is a powerful, six-wavelength LaserLED Hybrid source for fluorescence excitation applications. Providing maximum excitation for up to six fluorophores using our patented LaserLED Hybrid Drive®, X-Cite TURBO offers a highly versatile solution for routine to advanced imaging applications. With manual, PC, TTL and analog control, as well as compatibility with existing imaging software drivers, X-Cite TURBO includes convenient control options for any instrument configuration. With six high-power wavelengths, researchers have the flexibility to add additional fluorophores for live or fixed cell imaging to their imaging arsenal.
Multi-Wavelength LED Illumination
X-Cite TURBO enables individual or simultaneous excitation of fluorophores ranging from DAPI to Cy5. With the ability to use up to six high-powered LEDs with fine excitation control, users are able to balance illumination intensity individually between channels while protecting samples against photodamage. In fixed cell imaging, users can excite the common dyes used including DAPI, FITC, Cy3 and Cy5. For those imaging live cells or animals, TURBO can excite CFP, GFP, YFP, mCherry or mStrawberry, all by simply switching the available six LEDs with a single push of a button.
Wavelength Specificity & Fast Switching
X-Cite TURBO allows filtering of excitation light before it enters the light guide enabling the user to define the exact bandwidth of light desired to reach the fluorophore for maximum excitation efficiency. This capability also enables fast switching of excitation light for high throughput or live cell imaging without having to rely on the speed of a filter wheel.
Exceptional Uniformity & Illumination Stability
Using a liquid light guide as the form of light delivery along with our optimized microscope adapters and efficient thermal management, this light source provides uniform and stable excitation to all regions of your sample.
TECHNICAL SPECIFICATIONS

 

TURBO package includes:

X-Cite TURBO unit, speedDIAL remote, 3mm x 1500mm liquid light guide, accessory kit (hex key, USB cable, filter holder screws, trigger cable, power bar & cord), microscope adaptor

 

 

Wavelengths (usable range)

385 nm (375-400 nm)

430 nm (415-450 nm)

475 nm (460-495 nm)

525 nm (505-550 nm)

575 nm (555-610 nm)

630 nm (615-660 nm)

Excitation Filters

Accommodates standard 25mm diameter filters, with 3-5mm frames; filters not included

External Power Supply

Universal input 100-240 VAC, 50/60 Hz

Power Consumption

156 W (with all LEDs on)

LED ON/OFF Response Times

<100 µs TTL / 1 ms USB

Acoustic Noise

49 dB

Optical Stability

Wavelength dependent, ≤5% at 22°C ambient

Control Options

ON/OFF I/O – TTL compatible, typical 800 µA

Intensity I/O – Analog, 1-5 V, maximum 500 µA

RS-232 commands (SDK available), USB

 

DB25 to 12x BNC (6 TTL, 6 Analog)

USB (B-Type)

Dimensions

110 mm x 260 mm x 230 mm (W x H x D)

Weight

4.5 kg

Certifications

RoHS, CE

Warranty

LEDs – 15,000 hours or 3 years

All other components - 1 year, parts and labor
TECHNICAL SPECIFICATIONS

 

TURBO package includes:

X-Cite TURBO unit, speedDIAL remote, 3mm x 1500mm liquid light guide, accessory kit (hex key, USB cable, filter holder screws, trigger cable, power bar & cord), microscope adaptor

 

 

Wavelengths (usable range)

385 nm (375-400 nm)

430 nm (415-450 nm)

475 nm (460-495 nm)

525 nm (505-550 nm)

575 nm (555-610 nm)

630 nm (615-660 nm)

Excitation Filters

Accommodates standard 25mm diameter filters, with 3-5mm frames; filters not included

External Power Supply

Universal input 100-240 VAC, 50/60 Hz

Power Consumption

156 W (with all LEDs on)

LED ON/OFF Response Times

<100 µs TTL / 1 ms USB

Acoustic Noise

49 dB

Optical Stability

Wavelength dependent, ≤5% at 22°C ambient

Control Options

ON/OFF I/O – TTL compatible, typical 800 µA

Intensity I/O – Analog, 1-5 V, maximum 500 µA

RS-232 commands (SDK available), USB

 

DB25 to 12x BNC (6 TTL, 6 Analog)

USB (B-Type)

Dimensions

110 mm x 260 mm x 230 mm (W x H x D)

Weight

4.5 kg

Certifications

RoHS, CE

Warranty

LEDs – 15,000 hours or 3 years

All other components - 1 year, parts and labor