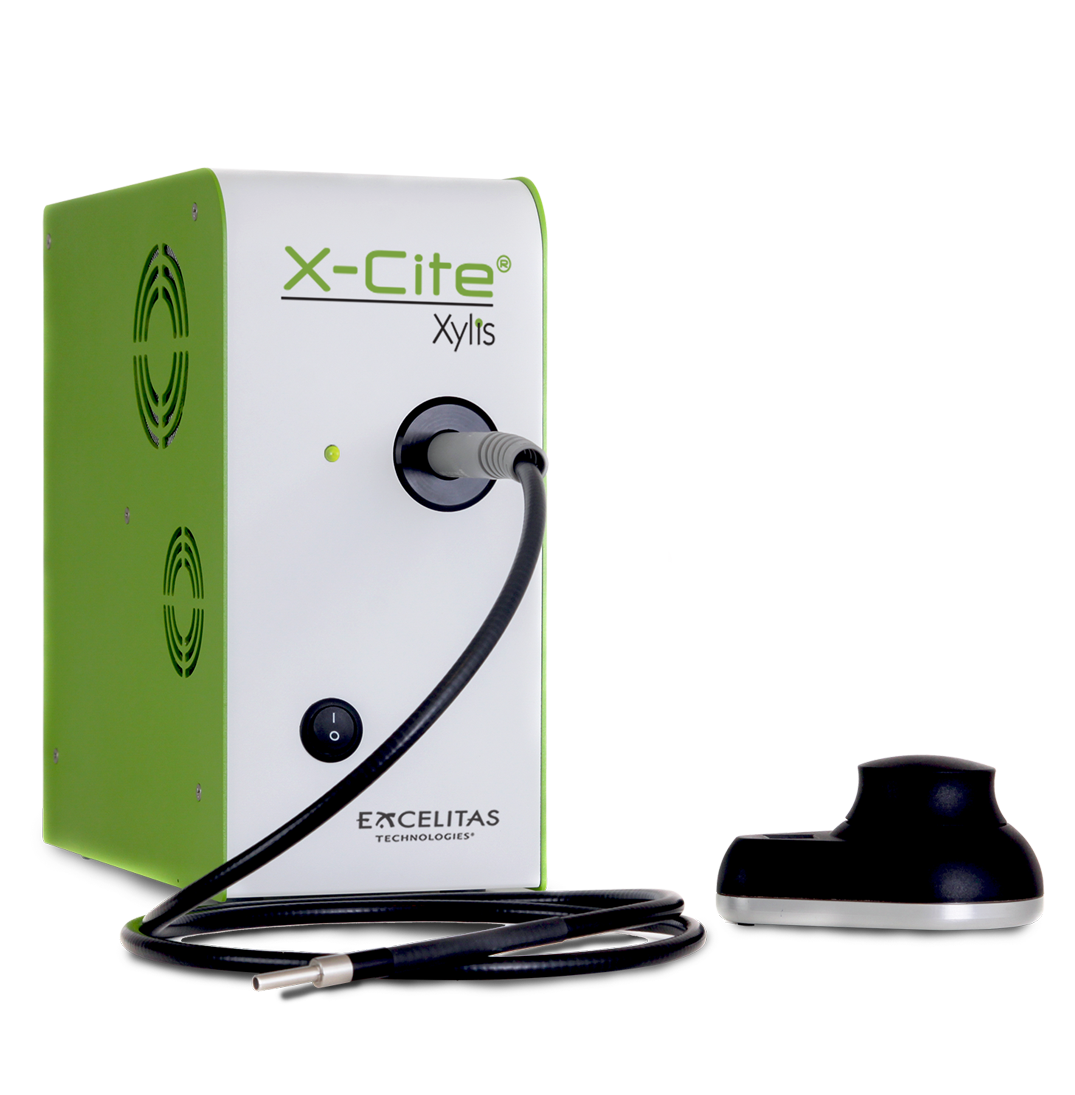 X-Cite XYLIS LED Illumination System
X-Cite XYLIS™ is a true arc lamp replacement for routine and advanced fluorescence imaging applications. It has the broadest spectrum available in a white light LED for fluorescence microscopy and rivals traditional arc lamps for brightness – making it ideal for both compound and stereomicroscopes. Incorporating our patented and award-winning LaserLED Hybrid Drive® technology to overcome the LED green gap, X-Cite XYLIS makes it possible to enjoy the benefits of LEDs without compromising on price, flexibility or performance. Our X-Cite XYLIS is also available for online purchasing at Digi-Key.com.
In addition to its powerful output and broad DAPI to Cy7 spectral range, X-Cite XYLIS offers the ultimate in flexibility – options are standard. Delivering light through a light guide alone or with a choice of more than a dozen microscope adapters, X-Cite XYLIS can be installed on just about any new imaging system or used to retrofit the microscopes labs have depended on for years.
Offering two models with a choice of UV wavelengths - 365 nm or 385 nm - labs may choose the one that works with their preferred or existing DAPI filter sets. When it comes to control options, all are built-in to every X-Cite XYLIS - each system includes intuitive fingertip control with speedDIAL, hands-free operation with a foot pedal, and USB and TTL inputs for automated applications.
The X-Cite XYLIS provides an environmentally friendly replacement for lamp systems and has been tried and tested on demanding microscopy applications including Stereomicroscopy and FISH. The option to turn OFF the UV part of the spectrum will be welcomed by stereomicroscope users who want to preserve the viability of their samples.
TECHNICAL SPECIFICATIONS

 

Model: XT720S

Model: XT720L

Wavelength Range

360-770 nm

380-770 nm

LED Peaks (nm)

365, 430, 475, 545, 635, 735

385, 430, 475, 545, 635, 735

Input Power Supply

Universal input 100-240 VAC, 50/60 Hz

Current

3.9-1.6A

LED ON/OFF Response Times

100 μs TTL / 1 ms USB

Control Options

speedDIAL

ON/OFF - TTL compatible

RS-232 commands (SDK available), USB

Foot Pedal (optional)

I/O Connections

BNC input

USB (B-type)

3.5 mm stereo plug

Dimensions (W x H x D)

120 mm x 260 mm x 260 mm (4.7" x 10.3" x 10.3")

Weight

6.3 kg (13.9 lbs)

Certifications

CE, RoHS

 

Warranty

LEDs – 25,000 hours or 3 years

All other X-Cite XYLIS components - 1 year, parts and labor (excluding LLG)

Patents

X-Cite XYLIS incorporates technology protected by patent US#9,239,133
"XYLIS offers a nice replacement for conventional metal halide lamps as it delivers more intensity and requires less frequent lamp replacement on our stereo microscope. Moreover, it is very bright for red fluorophores and strains for which the fluorescence was barely visible with classical lamps became easy to screen with this system."  
Peter Meister, University of Bern, Switzerland
"XYLIS offers a possibility of imaging Cy 7 channel additionally to the conventional ones, which expands the utility of our microscopes and allows more comprehensive analysis of our samples in immunofluorescence." 
Carlos  Wotzkow, University of Bern, Switzerland
TECHNICAL SPECIFICATIONS

 

Model: XT720S

Model: XT720L

Wavelength Range

360-770 nm

380-770 nm

LED Peaks (nm)

365, 430, 475, 545, 635, 735

385, 430, 475, 545, 635, 735

Input Power Supply

Universal input 100-240 VAC, 50/60 Hz

Current

3.9-1.6A

LED ON/OFF Response Times

100 μs TTL / 1 ms USB

Control Options

speedDIAL

ON/OFF - TTL compatible

RS-232 commands (SDK available), USB

Foot Pedal (optional)

I/O Connections

BNC input

USB (B-type)

3.5 mm stereo plug

Dimensions (W x H x D)

120 mm x 260 mm x 260 mm (4.7" x 10.3" x 10.3")

Weight

6.3 kg (13.9 lbs)

Certifications

CE, RoHS

 

Warranty

LEDs – 25,000 hours or 3 years

All other X-Cite XYLIS components - 1 year, parts and labor (excluding LLG)

Patents

X-Cite XYLIS incorporates technology protected by patent US#9,239,133
"XYLIS offers a nice replacement for conventional metal halide lamps as it delivers more intensity and requires less frequent lamp replacement on our stereo microscope. Moreover, it is very bright for red fluorophores and strains for which the fluorescence was barely visible with classical lamps became easy to screen with this system."  
Peter Meister, University of Bern, Switzerland
"XYLIS offers a possibility of imaging Cy 7 channel additionally to the conventional ones, which expands the utility of our microscopes and allows more comprehensive analysis of our samples in immunofluorescence." 
Carlos  Wotzkow, University of Bern, Switzerland