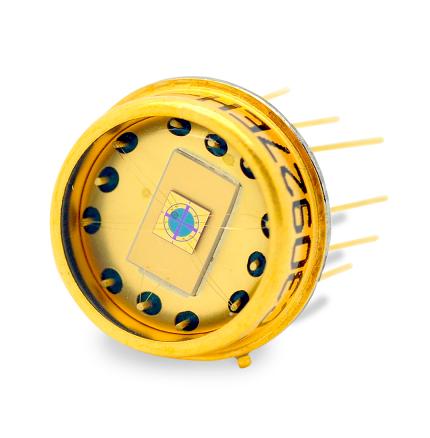 PART/ C30927EH-01
C30927EH-01 - Si APD Quadrant - 1.5 mm - 1060 nm
The C30927EH-01 quadrant silicon avalanche photodiode with 1.55 mm useful diameter is designed with a double diffused "reach-through" structure.
The quadrant structure of the C30927EH-01 has a common avalanche junction, with separation of the quadrants achieved by segmentation of the light-entry p+ surface opposite the junction. With this design, there is no dead space between the elements and therefore no loss of response at boresight.
The C30927EH-01 is optimized for operating at 1064 nm, providing high responsivity and excellent performance when operated within about 50 nm of the specified wavelength.
Key Features and Benefits:
Full Angle for totally illuminated photosensitive surface greater than 90º
High Quantum Efficiency optimized for YAG wavelength
Fast Time Response
Large Active Area: 1.77 mm2
Hermetically Sealed Low Profile TO-8 Packages
Breakdown voltage range (V): 350 to 485
Typical breakdown voltage (V): 425
Typical gain (M): 100
Typical Temperature Coefficient for constant gain (V/℃): 2.4
Minimal Responsivity at 1060 nm (A/W): 12
Typical Responsivity at 1060 nm (A/W): 15
Typical total dark current (nA): 100
Maximal total dark current (nA): 200
Typical noise current per element (pA/√Hz): 1.0
Maximal noise current per element (pA/√Hz): 1.5
Typical capacitance total of all quadrants (pF): 3
Maximal capacitance total of all quadrants (pF): 5
Maximal series resistance (Ω): 15
Typical rise and fall time (ns): 3
Storage temperature (℃): -60 to 120
Operating temperature (℃): -40 to 60
Breakdown voltage range (V): 350 to 485
Typical breakdown voltage (V): 425
Typical gain (M): 100
Typical Temperature Coefficient for constant gain (V/℃): 2.4
Minimal Responsivity at 1060 nm (A/W): 12
Typical Responsivity at 1060 nm (A/W): 15
Typical total dark current (nA): 100
Maximal total dark current (nA): 200
Typical noise current per element (pA/√Hz): 1.0
Maximal noise current per element (pA/√Hz): 1.5
Typical capacitance total of all quadrants (pF): 3
Maximal capacitance total of all quadrants (pF): 5
Maximal series resistance (Ω): 15
Typical rise and fall time (ns): 3
Storage temperature (℃): -60 to 120
Operating temperature (℃): -40 to 60