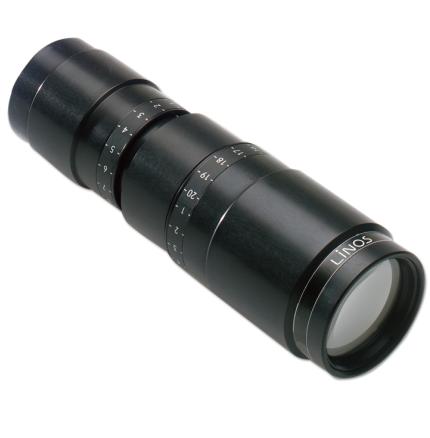 LINOS Variable Magnification Beam Expanders
LINOS® Variable Beam Expanders are beam forming optics for laser material processing applications. They vary diameter and divergence of laser beams and optimize focus diameter, position and beam propagation.
LINOS Variable Beam Expanders - Qioptiq offers standard versions of manual and motorized variable beam expanders made of fused silica and/or optical glass. They can be implemented in reverse as beam reducers and are optimally used with LINOS F-Theta Ronar Lenses. Available in manual and motorized versions.
LINOS Beam Expanders vary the diameter and the divergence of a laser beam and allow optimization of focus diameter, focus position and beam propagation. All LINOS beam expanders can also be implemented in reverse mode as beam reducers.
They are used for beam forming in laser material processing applications and are optimally employed in conjunction with LINOS F-Theta Ronar lenses for applications including:
Laser structuring of foils
Laser scribing of ceramic substrates
Cutting of solar cells
Micro drilling of sheet metal
Marking of diverse materials with encodings
Learn more about our LINOS Variable Beam Expanders and order online at Qioptiq-Shop.
Continuous variation of magnification 2X...8X
Choice between fused-silica or glass entrance lens
Continuous variation of exit-beam divergence
Wavelengths 355 nm, 532 nm, 633/780/830/980 nm or 1064 nm
Precise scales allow reliable settings and high repeatability
Max. exit-beam diameter 31 mm
Max. length 165.5 mm
Max. diameter 42.0 mm
Mounting diameter 37.6-0.1 mm, reference on surface A
Continuous variation of magnification 2X...8X
Choice between fused-silica or glass entrance lens
Continuous variation of exit-beam divergence
Wavelengths 355 nm, 532 nm, 633/780/830/980 nm or 1064 nm
Precise scales allow reliable settings and high repeatability
Max. exit-beam diameter 31 mm
Max. length 165.5 mm
Max. diameter 42.0 mm
Mounting diameter 37.6-0.1 mm, reference on surface A