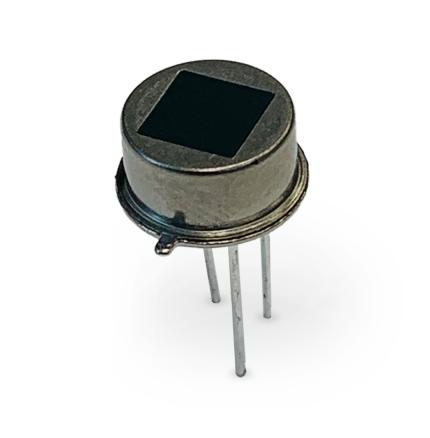 PART/ PYQ 1748 
PYQ 1748 Quad-Element DigiPyro
This Quad-Element Pyrodetector features four elements in series connection in TO-5 Metal Housing. This Pyrodetector Series is part of the DigiPyro® family that feature internal integrated circuitry to convert the element signals into a 14-bit digital output.
This DigiPyro Detector Series in TO-5 housing includes Quad-Elements for ceiling applications. 
The PYQ 1748 was designed for economy mid-range sensing applications. It includes a built-in temperature diode which provides output related to the pyro internal temperature. This makes the output signal into a 14 +14 bit signal, communicated in one digital bit stream of 2x14-bit output via a single wire "direct link" connection to a suitable host microprocessor. 
Features 
Integrated digitization 
High-responsivity ceramic pyroelectric elements  
Dual detector with 1x1 mm² elements 
148° Field-of-view 
TO-5 metal housing for high EMI immunity 
Best for advanced motion detection algorithms 
Applications 
Mid-distance motion detection (with lens) 
Energy saving applications 
Intrusion alarms 
Ceiling mounting applications 
Responsivity: 4.2 kV/W (typical) 
Noise: 3 digits (typ), 12 digits(max)  
Housing with optical window: TO-5 
Power requirement: 2.7-3.6 V / 10 µA 
 Field-of-view (horiz/vert): 148°/148° 
Responsivity: 4.2 kV/W (typical) 
Noise: 3 digits (typ), 12 digits(max)  
Housing with optical window: TO-5 
Power requirement: 2.7-3.6 V / 10 µA 
 Field-of-view (horiz/vert): 148°/148°