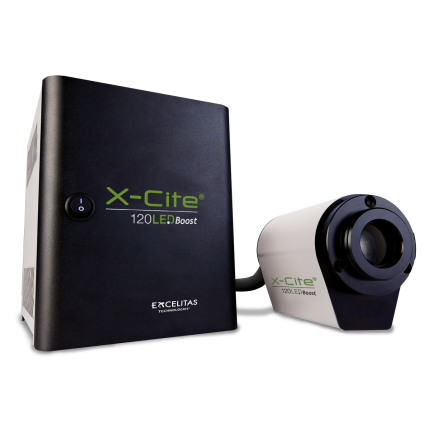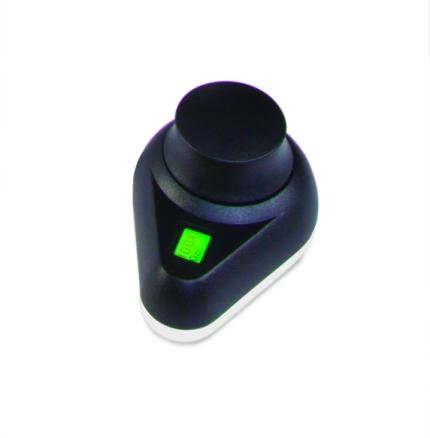 PART/
X-Cite 120LED Boost High-Power LED illumination System
X-Cite® 120LED Boost is more powerful than ever and efficiently excites a greater range of fluorophores than the original X-Cite 120LED, with no compromise. Even the popular red fluorophores are no challenge for the X-Cite 120LED Boost. This LED illumination system offers superior optical power and exceptional field uniformity at the specimen level with the broadest spectrum of fluorescence illumination through manual, PC and TTL control.
"The X-Cite 120LED Boost provides accurate FRET measurements and works well with all of our fluorophores. We find it bright, uniform and easy to use." Dr. Ammasi Periasamy W.M. Keck Center for Cellular Imaging University of Virginia, USA
With LEDs guaranteed for 25,000 hours and no lamps or modules to replace, X-Cite 120LED Boost offers sheer simplicity and convenience to researchers allowing them to focus on their experiments instead of equipment maintenance.
Simple and Intuitive
X-Cite 120LED Boost redefines ease and convenience in fluorescence excitation. Designed with intuitive controls and no bulbs or modules to install, set-up and operation has never been simpler.
Versatile
This high-power, broad-spectrum LED illumination system provides fluorescence excitation from 370- 700nm catering to a wide range of popular fluorophores and fluorescent proteins, including strong excitation for the traditionally challenging mCherry wavelengths. With highly engineered direct coupling optics, the X-Cite 120LED Boost delivers bright, uniform illumination on microscopes from all major manufacturers.
Direct Coupling Without Vibration
X-Cite 120LED Boost is innovatively designed with thermal management that allows direct coupling to the microscope for maximum power without adding mechanical vibration. Electronic shuttering provides sub-millisecond operation while avoiding the vibration and failure risk of mechanical shutters.
Ergonomic Fingertip Control
This system includes an ergonomic speedDIAL that can be placed where it is most comfortable for the user. With a large speed-sensitive intensity dial that doubles as an ON/OFF button, controlling illumination is quick and intuitive.
TECHNICAL SPECIFICATIONS

Wavelength Range

370-700 nm

Power Supply

Universal input 100-240 VAC, 50/60 Hz

Power Consumption

230 W

LED ON/OFF

Response Times

50 µs TTL

1 ms USB

Control Options

Manual – speedDIAL (1% increments)
TTL compatible – BNC input

RS-232 commands (SDK available)

USB

 

powerCUBE

LED head

speedDiaL

Height

213 mm (8.4")

116 mm (4.6")

59 mm (2.3")

Width

173 mm (6.8")

90 mm (3.5")

80 mm (3.1")

Depth

260 mm (10.2")

166 mm (6.5")

112 mm (4.4")

Weight

4.8 kg (10.6 lbs)

0.3 kg (0.7 lbs)

Certifications

CE marked; certified to IEC, Canadian and US standards; RoHS compliant

Warranty

LEDs – 25,000 hours (or 3 years); all other X-Cite 120LEDBoost components 1 year, parts and labor
TECHNICAL SPECIFICATIONS

Wavelength Range

370-700 nm

Power Supply

Universal input 100-240 VAC, 50/60 Hz

Power Consumption

230 W

LED ON/OFF

Response Times

50 µs TTL

1 ms USB

Control Options

Manual – speedDIAL (1% increments)
TTL compatible – BNC input

RS-232 commands (SDK available)

USB

 

powerCUBE

LED head

speedDiaL

Height

213 mm (8.4")

116 mm (4.6")

59 mm (2.3")

Width

173 mm (6.8")

90 mm (3.5")

80 mm (3.1")

Depth

260 mm (10.2")

166 mm (6.5")

112 mm (4.4")

Weight

4.8 kg (10.6 lbs)

0.3 kg (0.7 lbs)

Certifications

CE marked; certified to IEC, Canadian and US standards; RoHS compliant

Warranty

LEDs – 25,000 hours (or 3 years); all other X-Cite 120LEDBoost components 1 year, parts and labor