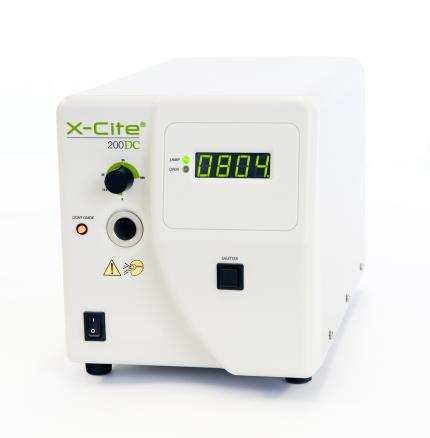 PART/
X-Cite 200DC
The X-Cite® 200DC fluorescence microscopy illumination system offers the ultimate combination of optical performance, short-term stability and a built-in fast shutter. With the convenience and superior illumination uniformity found in all X-Cite systems, the X-Cite 200DC's intuitively easy-to-use design also includes light guide auto-detection to ensure optimized light coupling - every time. Novice and experienced microscopists will enjoy the flexibility provided by the smooth 0-100% intensity adjustment and expanded spectral range of this advanced DC stabilized fluorescence light source.
The X-Cite 200DC is ideal for routine imaging and advanced applications requiring millisecond stability.
System features include:
DC lamp with exceptional short and medium term intensity stability
Adjustable iris (0-100%) for intensity control to avoid photobleaching and optimized illumination levels
Internal high speed shutter to limit photobleaching and mechanical vibration transferred to microscope during automated imaging for better image quality.
Liquid Light Guide for superior illumination uniformity and elimination of heat transfer to microscope.
Automatic Light Guide Detection to ensure proper/complete insertion of light guide to optimize performance and extend lifetime
Pre-aligned 2000 hour lamp for easy lamp replacement with no alignment required.
Intelli-Lamp® Technology to maintain optimum lamp temperature and monitor lamp hours.
System Includes: Lamp module, liquid light guide with adaptor, foot pedal, grounded and shielded power cord, user guide (on CD), quick-start guide
Lamp: 200W Mercury Vapor Short Arc, DC
Lamp Life: 2000 hours guaranteed, 2500 hours typical
Adapters: Compatible with microscopes from all major manufacturers
Filter: Bandpass, 340-800nm, non-removable 
Shutter: Front panel button, foot pedal, TTL input/sync output Response time: 5-6 ms trigger to open/close (TTL)
Iris: ND (Neutral Density) mesh, manual dial control, continuous non-detent motion from 0-100%
Warm-up Period: 4 minutes (typical)
System Includes: Lamp module, liquid light guide with adaptor, foot pedal, grounded and shielded power cord, user guide (on CD), quick-start guide
Lamp: 200W Mercury Vapor Short Arc, DC
Lamp Life: 2000 hours guaranteed, 2500 hours typical
Adapters: Compatible with microscopes from all major manufacturers
Filter: Bandpass, 340-800nm, non-removable 
Shutter: Front panel button, foot pedal, TTL input/sync output Response time: 5-6 ms trigger to open/close (TTL)
Iris: ND (Neutral Density) mesh, manual dial control, continuous non-detent motion from 0-100%
Warm-up Period: 4 minutes (typical)