X-Cite Illuminators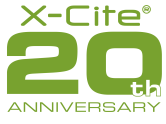 X-Cite® has grown to be the industry standard in fluorescence illumination which first originated with Lumen Dynamics and then acquired by Excelitas in 2013. Known for its exceptional stability and superior illumination uniformity, X-Cite offers a wide range of Lamp and LED light sources for fluorescence microscopy applications. X-Cite Lamp Illuminators provide the convenience of pre-aligned, long-life lamps and easy installation while our X-Cite LED systems offer high-intensity LED illumination featuring intuitive controls and no bulbs to install, making set-up and operation simpler than ever.
Serving OEM medical and diagnostic applications such as endoscopy, surgical visualization and headlamp systems, the X-Cite VitaeTM product family offers high-performance LED illumination solutions with custom design capabilities to meet the unique requirements of our customers.
Need something better suited to your specific requirements?
Engage Excelitas to meet your most complex custom requirement.