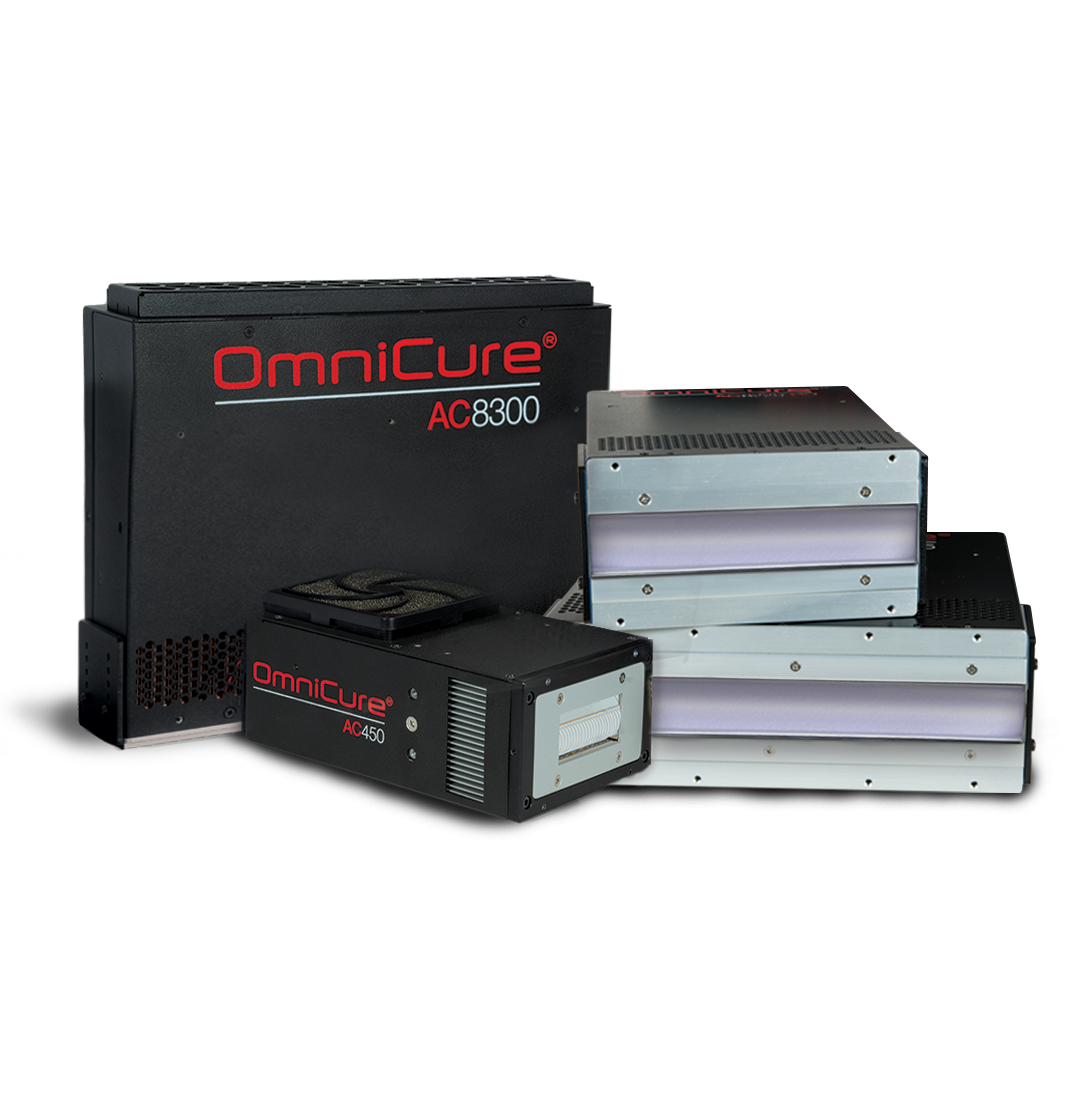 OmniCure AC Series UVC LED Curing Systems
OmniCure® AC Series UVC LED Curing Systems leverage our industry-proven AC Series platforms to provide the exceptional performance, quality, and robustness that is synonymous with the OmniCure brand. Delivering high output power and outstanding uniformity within a compact modular air-cooled design, these UVC systems are scalable and easy to integrate to meet the specific needs of a variety of applications.
Featuring mature electrical, optical, and thermal design architectures that have undergone rigorous validation in the field, our OmniCure UVC LED systems offer exceptional performance to meet the demands of UVC applications.    
Available in a wide range of form factors, these UVC systems are easy to integrate and adjoin to extend the working area to provide an exceptionally flexible solution for new or existing projects.
With no mercury or ozone emissions and minimal maintenance required, OmniCure UVC LED systems provide a safe, reliable, and flexible solution for curing or touchless UVC disinfection applications such as surface decontamination, PPE & mask disinfection or point-of-care equipment.  For more information on UVC disinfection or our full product portfolio of UVC light sources, or have a custom application to discuss, please contact us to speak to a product expert.
OmniCure UVC LED Systems

LED Peak Wavelengths

272 nm

Active Optical Area

From 25 x 50mm to 25 x 300mm1

Peak Irradiance

>1000 mW/cm2

Longitudinal Uniformity*

Better than ± 10%

Operating Voltage

48 V DC

Dimensions (L x W x H)

110 x 68 x 190 mm | 159 x 80 x 218 mm
235 x 80 x 218 mm | 311 x 80 x 218 mm

Weight

From 1.1 kg2

Cooling

Air

Automation

Integrated PLC controls for UV intensity and system alarms
*At 100% intensity setting.
1In 25mm increments from 25 x 50mm up to 25 x 300mm. Varies depending on size of optical area
OmniCure UVC LED Systems

LED Peak Wavelengths

272 nm

Active Optical Area

From 25 x 50mm to 25 x 300mm1

Peak Irradiance

>1000 mW/cm2

Longitudinal Uniformity*

Better than ± 10%

Operating Voltage

48 V DC

Dimensions (L x W x H)

110 x 68 x 190 mm | 159 x 80 x 218 mm
235 x 80 x 218 mm | 311 x 80 x 218 mm

Weight

From 1.1 kg2

Cooling

Air

Automation

Integrated PLC controls for UV intensity and system alarms
*At 100% intensity setting.
1In 25mm increments from 25 x 50mm up to 25 x 300mm. Varies depending on size of optical area